Good Evening Olympic View Families and Friends!
I am ready to take on this challenge!  I know the OV community is as well!  I know we may all have different ideas and views on opening schools but, I also know the power of our Golden Eagle Community!  I am making the promise that I am here for our students, staff, parents, grandparents, guardians and community.  It will not be perfect (what is?), and we will make adjustments along the way.  I guarantee that my focus of "Safety and Students First,"  will not waiver.  PLEASE make sure you have followed the blog by entering your email address.  This insures you will receive updates to the blog as they come out.  Please read this post in it's entirety.  I love, and miss you all, and can't wait to see the awesome leadership from our students, staff, and families that will continue to reveal itself, not when things are easy, but when character and leadership is truly tested!  I am confident we will all pass!!!!!!
It's time for Residency Verification! In order to attend Olympic View School ALL STUDENTS with the exception of incoming Kindergarteners or new students who already registered, MUST provide documentation of residency. Click here for the residency verification form. Click here for the 2nd Family Affidavit (if home is in someone else's name). Past due bills are ok this year only. Please scan/take a photo of your completed documents and email to
Wednesday, August 17 The School Office staff returns and will be available to support families from 8:00 am – 4:00 pm. For the safety of everyone we ask that you please call or email before coming to the school office. 619-656-2030 or email olympicviewschool@cvesd.org
Monday, August 31 THE FIRST DAY OF SCHOOL FOR THE 2020 – 2021 – DISTANCE
LEARNING! More information to come! Please note that California Compulsory Education Law requires everyone between the ages of six and eighteen years of age to attend school, except sixteen- and seventeen-year-olds who have graduated from high school or passed the California High School Proficiency Exam (CHSPE) and obtained parental permission to leave.
Summer Learning Camp
A small number of students per grade level were invited to attend a virtual, online Summer Learning Camp (SLC). This camp will be during the hours of 8:00-11:30 and held daily Monday through Friday from August 10, 2020 to August 21, 2020. This program will incorporate daily one-on-one instruction and small group intervention with teachers online.
Summer Learning Camp will provide instruction in reading and mathematics to students who may benefit from additional intervention. Each child's individual literacy skills and numeracy skills will be assessed and addressed during this ten-day camp. This experience is intended for a limited number of students: Only those students needing additional support in reading foundational skills and mathematics will be invited to attend.
We are excited to offer this virtual Summer Learning Camp next week!
Recovery Intersession
The Special Education and Pupil Services Department is also offering a Recovery Intersession for all Special Education students. This is another individualized, online opportunity for invited students. A highlight of this program will be additional small group and one-on-one instruction tailored for students' needs.
The school day will mirror that of the Summer Learning Camp and be 3 hours and 30 minutes from 8:00-11:30 and held daily, Monday through Friday, from August 10, 2020 to August 21, 2020. Since this special opportunity is not part of a child's IEP, transportation will not be provided, and the school will not hold IEP meetings or conduct IEP assessments. Again, this program is intended for students with IEPs and is available by invite only.
How Distance Learning Will Be Different This Time
The Superintendent of the Chula Vista Elementary School District (CVESD) has committed to providing staff and families a newsletter every two weeks.
Messages from the Superintendent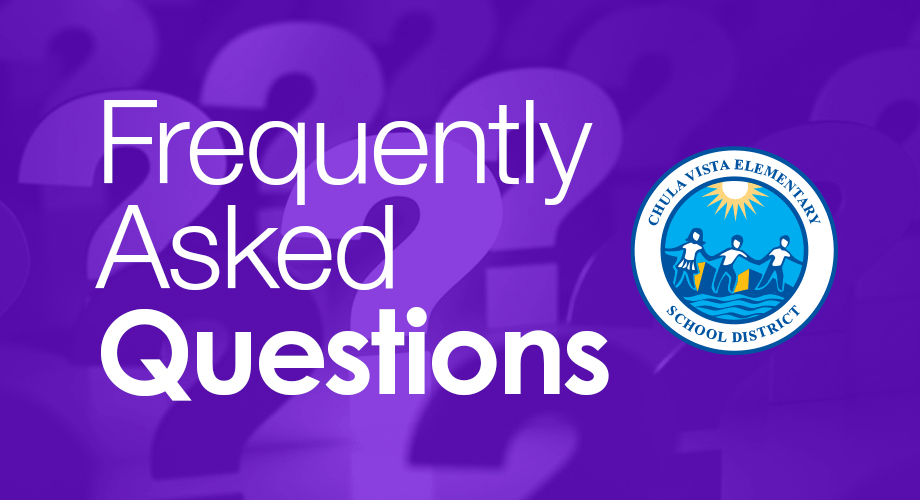 CVESD has developed a Frequently Asked Questions web page to help answer some of the most commonly asked questions from the community. We encourage you to regularly check out this link to stay informed. https://bit.ly/33pX4oF
We hope everyone is doing well and staying healthy!  Please visit our CVESD website for up-to-date COVID-19 information with the link: COVID-19 Info Center.  Please click here to view updated COVID-19 guidance from the City of Chula Vista. You may find more information at www.chulavistaca.gov/coronavirus.
State Guidance on COVID-19 and Schools
We would like to provide guidance from the state of California regarding K-12 education by sharing the information posted on this website: https://covid19.ca.gov/education/#top
Health and Safety Reminders
COVID-19 presents real health risks to our community. Please continue to stay safe: Wash your hands, wear a mask or facial covering, and maintain physical distancing of at least 6 feet when around people from outside your household.

 CVESD Board of Education Meeting
The district's Board of Education meetings are also being held online and generally occur the second Wednesday of each month. The next CVESD Board of Education meeting is Wednesday, August 12 at 6:00 pm.
To access these public meetings, please click the link here: https://www.cvesd.org/board_of_education/board_meetings
Link to AB-77:
https://static.k12insight.com//clients/_LTFileUploads/LT_chulavista/07142020_6933.pdf